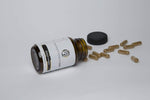 Welcome to our very first blog and we're going to kick off by talking about our Award Winning Rhubarb Complex®, the UK's best selling all natural detox.
Firstly, we'd like to say thanks so much to all of you fabulous loyal Twenty First Century Herbs (TFCH) customers. We wholeheartedly appreciate all of your continued support with Rhubarb Complex® and all of our other products. We put a lot of love and thought into each and every one and hope you guys are all reaping the benefits!
We've had hundreds of messages asking us what Rhubarb Complex® is all about and how it can help you, and we've finally had the time to sit down and give anyone new to the TFCH family a bit of background…..
Rhubarb Complex was first created in 2011 by our two Master Herbalists. They were noticing that a lot of the conditions they were seeing at our clinic - ranging from Eczema to problematic skin, weight gain to fertility issues, and even auto-immune conditions - were all stemming from the digestive system.
Rather than continuing to make bespoke products for each condition, they found they could make one product that would help 90% of people with their ailments, and Rhubarb Complex® was born.
We hear you - how could one product possibly treat so many conditions?
Rhubarb Complex® starts by addressing the root of what we believe is the main problem - the digestive system. Rhubarb Complex® works by clearing the digestive system of yeasts and toxins rather than treating the symptoms. So many western medicines and other supplements adopt a symptomatic treatment approach, chasing the symptoms and keeping  them at bay - but we want to treat the cause. 
We believe the main cause of most conditions seen at our clinic was an imbalance of the digestive system and if your body isn't happy on the inside it will generally show on the outside! Our goal is to make you healthy again, so you'll find that with all of our supplements we'll recommend you take Rhubarb Complex® alongside it to gain maximum impact.
With over 250,000 of you wonderful TFCH customers, we feel we're well on our way to achieving our goal.
We love to hear your feedback, and we welcome all your questions. If there's anything you'd like us to write about in the future get in touch and we'll do our very best to continue to provide you with all the knowledge to live life the natural way. Shop
Rhubarb Complex
 today!
Shop the full size Rhubarb Complex®
Here
Shop the sample size Rhubarb Complex®
Here