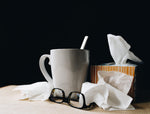 Colds and flus affect millions of people around the globe. Colds and the flu are often treated via prescription and over the counter medicines. However, there are also several gentle and effective natural remedies you can use to manage and treat these conditions. 
Chicken or Bone Broth
Homemade chicken bone broth is excellent for treating the cold or flu because it contains amino acids with anti-inflammatory properties. These amino acids slow the movement of white blood cells, known as neutrophils, in the body. Neutrophils work by attacking microorganisms in the body to ward off infection. Slowing down their movement ensures that they can concentrate on affected areas and reduce the effects of the disease. Make homemade broth that is low in sodium to enjoy maximum benefits.
Garlic has powerful antimicrobial properties, which makes it effective against bacteria and other microorganisms. Also, garlic can help you prevent an infection from turning into a full-blown cold or flu if you take it as soon as you start experiencing signs of illness. You can take garlic in supplement form, chew individual cloves, or grate it over a salad or soup.
Honey
Honey helps to combat the effects of cold or flu by soothing a sore throat and reducing coughing so you feel better quicker. Also, it has antibiotic properties, which makes it effective against disease-causing bacteria.
Echinacea is one of the more effective remedies because it contains chemicals known as flavonoids, which reduce inflammation. Also, it boosts your immune system so your body can fight disease quicker. Further, it helps to reduce feelings of lethargy, shorten the length of a cold or flu, and generally ensures that your body can fight these diseases faster.
Salt Water
Gargling with salt water is one of the best ways to soothe a sore throat and prevent microorganisms from entering your lungs. This remedy prevents a cough from developing and reduces the severity of one. Gargling frequently throughout the day will draw bacteria and other microorganisms from your throat and other areas of your body and ultimately ensure that your body recovers faster.
In Conclusion
Treating a cold or flu is sometimes as easy as reaching for common kitchen ingredients such as salt, honey, or chicken soup. Using natural remedies ensures that you treat your cold effectively without worrying about the side effects that come with using prescription or over the counter medicines. Natural remedies also give you greater control over the remedies you use to ensure only safe and natural substances go into your body.
Why not aim to prevent the severity of a cold or likelihood of catching the flu by trying our natural Sneezewort Complex™️ formula.